Travel Daily Supplier Updates - World Drive Holidays
FIND UPDATES BY SUPPLIER
---
Posted: Thu 24 Jan 13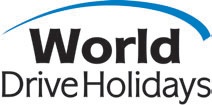 WORLD DRIVE HOLIDAYS CITROEN DRIVE EUROPE - 2013 EARLYBIRD OFFER From $28 per day*   Drive Europe from behind the wheel of a new tax free Citroen and enjoy up to 12 FREE days when you book/pay the minimum 17 day package by 31 March 2013.
---
Posted: Wed 26 Sep 12

9 FREE Days - ALL models 3 FREE additional days for previous Citroen customers since 2005 FREE pick up and drop off ALL locations in France & Europe.
---
Posted: Tue 22 Nov 11

  Citroën DriveEurope – 2012 EARLYBIRD   Up To 12 FREE DAYS   & 50% discount on European pick up and return fee   From: $28 per day #   Lease a brand new Tax Free Citroen in 2012 and receive these Bonus inclusions: 7 FREE Days – C3, C3 Picasso, DS3 and the Berlingo Multispace Wagon 9 FREE Days – C4 Hatch, DS4, DS5, C4 Picasso, Grand C4 Picasso, C5 Saloon, C5 Tourer & C8 Minivan 3 FREE Days - For all Citroen loyal customers since 2005, all models.
Travel Daily is Australia's favourite travel industry publication, distributed by email as a paid subscription to people across the industry every weekday since 1994. To sign up for a FREE 14-day trial to Travel Daily click on the button at right.