---
Posted: Mon 01 Jun 15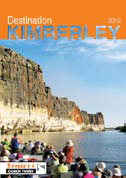 Now on agency shelves is the latest guide to Northern Australia from Seniors Coach Tours.
---
Posted: Wed 20 Nov 13

4 more pages have been added to create a 68 page brochure covering cruising, accommodation & touring the Kimberley, NT Top End & Red Centre.
---
Posted: Thu 29 Aug 13

APT Anticipates High Demand for KWA in 2014 16 August 2013: Australia's Best Domestic Tour Operator[1], APT, has announced the launch of its new 2014 Kimberley Wilderness Adventures (KWA) programme a month ahead of schedule.
---
Posted: Mon 03 Jun 13

A fresh, new collection of luxury, adventure and great value holidays fill the pages of the newly released 2013 – 2014 'Broome, The Kimberley & Northern Territory' Brochure.
---
Posted: Mon 03 Jun 13

Exclusive yacht charters, helicopter flights over Mitchell Falls, luxury tented wilderness lodges, access to restricted indigenous sites, hiking the Bungle Bungle domes and 4WD adventures in the heart of the outback are just a handful of the highlights in the new Kimberley Coast Cruising Featuring Kimberley Wilderness 4WD Adventures 2014 brochure from APT.
---
Posted: Mon 12 Sep 11

APT wilderness lodges get make-over for 2012 Kimberley Adventures APT is giving all its Wilderness Lodges a soft refurbishment in readiness for its 2012 small group 4WD and air safari Kimberley Wilderness Adventures program which is launched today.