---
Posted: Mon 01 Jun 15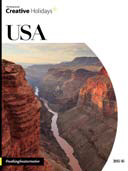 An expanded Deep South section opens up the region growing in popularity among Australian travellers, with new hotels, sightseeing options, suggested itineraries and road trip options.
---
Posted: Mon 25 May 15

An ever-changing destination, the bustling nation of Thailand serves up many new and exciting elements to entice both first-timers and regular visitors.
---
Posted: Mon 11 May 15

Building on extra air capacity between Australia and Hawaii by Qantas, Jetstar & Hawaiian Airlines, Creative Holidays has in turn increased its range for the Aloha state.
---
Posted: Mon 27 Apr 15

Creative Holidays has expanded its sightseeing and options in this new program, with additions such as the TMZ Hollywood Tour in Los Angeles, Flavours of New York and Bike the Golden Gate Bridge in San Francisco.
---
Posted: Wed 23 Jan 13

Creative Holidays announces the launch of its first ever standalone 2013 Stopover brochure.
---
Posted: Mon 16 Apr 12

Creative Holidays' extensive 2012 Australia program is on agents' shelves now.
---
Posted: Fri 24 Feb 12

Creative Holidays launch stand-alone Mauritius brochure   21 February, 2012: For the first time ever and on the back of increased demand, Creative Holidays has released a stand-alone Mauritius brochure, showcasing the beauty and diversity of this tropical Indian Ocean island.
---
Posted: Fri 10 Feb 12

Tapping into the strength of the Australian Dollar and the ongoing popularity of Singapore and Malaysia, Creative Holidays has launched an extended Singapore & Malaysia programme for 2012, packed with accommodation, cruising and sightseeing choices across the key regions of Singapore City, Sentosa, Bintan Island, Kuala Lumpur, Penang, Langkawi, Sabah, Sarawak and Brunei.
---
Posted: Thu 12 Jan 12

Creative Holidays' 2012 Hong Kong & China program out now   4 January, 2012: In 2012 Creative Holidays will offer the trade an expanded portfolio of accommodation, sightseeing and touring options visiting Hong Kong, Kowloon, Macau, Beijing, Xian, Shanghai, the Yangtze River and regional areas of China in its comprehensive Hong Kong & China program.
---
Posted: Thu 15 Dec 11

Creative Holidays' 2012 Thailand program is currently being rolled out to travel agents across Australia featuring a fresh new look, a clearer layout, a huge range of new properties, three new extended tours and more value adds, bonus offers and upgrade deals than ever before.