The Travel Daily Team
Travel Daily is produced each day by a dedicated team of experienced professionals. Our aim is to be first with the news, bringing the travel industry all of the relevant information they need, as well as providing an entertaining and edifying read.
Travel Daily's staff include:
Management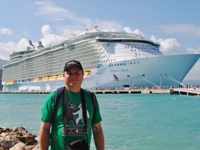 Bruce Piper, Managing Editor
Email: bruce.piper@traveldaily.com.au
Bruce changed his career completely when he and his wife Jenny bought Travel Daily in 2004. He's proud of his more than 20 years as an electrical engineer but thinks the travel industry is a lot more fun!
Bruce and Jenny have grown Travel Daily to hold a significant place in the Australian travel publishing scene, and are proud of Travel Daily's reputation for accurate and timely reporting – as well as providing something to smile about each day.
Bruce loves writing the Window Seat column, writing quirky photo captions and fiddling with computers, and when he's not working enjoys spending time with their three teenage children as well as being involved with his local church.
Photo: Bruce in the Caribbean in front of Oasis of the Seas.
---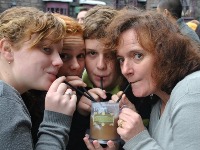 Jenny Piper, Managing Director
email: jenny.piper@traveldaily.com.au
Like most women, Jenny is a great multitasker, combining various roles within the business with running a family. Her day to day role sees her managing the company's finances, staff and strategy, but she also writes some features and drives the development of Travel Daily's popular supplements.
Jenny has been in the travel industry since she and Bruce purchased Travel Daily, and before that worked as a pharmacist as well as bringing up three children.
When she's not in the office Jenny enjoys spending time with friends and activities with her family. Her favourite place in the world is Vincentia on the NSW South Coast.
Photo: Jenny and the kids tuck into some Butterbeer at Harry Potter World in Orlando, Florida
---
Editorial
Guy Dundas, Editor
Email: guy.dundas@traveldaily.com.au
Guy has been with the Travel Daily team for nearly 10 years. He has over 18 years experience in the travel industry, having previously worked for Southern World Vacations, United Vacations, Adventure World, Talpacific Holidays and Scenic Tours.
In his role as Editor, Guy enjoys getting the industry scoops. He was the first to swoop in on Delta Air Lines' launch into Australia and Qantas' direct services between Sydney and Dallas/Fort Worth.
When Guy isn't working or travelling, he enjoys spending time with his wife and two daughters and riding his bike.
After recently spending eight hours in Paris on his way back from a conference in Bordeaux, the city has left Guy wanting more, and he hopes to return to explore the French capital with his family.
Guy is a life-long Bulldogs fan and is extremely competitive, especially when it comes to NRL inter-office results day in Travel Daily's industry footy tipping competition.
Photo: Guy at the top of the Eiffel Tower, Paris
---
Marketing and Advertising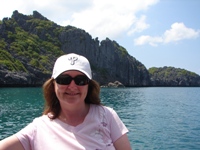 Lisa Martin, Advertising Coordinator
Email: lisa.martin@traveldaily.com.au
Lisa started at Travel Daily in 2004 in an administration role, when Bruce and Jenny purchased the business.
As demand for advertising in the Travel Daily issue grew, Lisa took on the responsibility to manage the day-to-day advertising requests for the newsletter.
Working with the great staff in the office is what Lisa enjoys most about being at Travel Daily.
Her ideal holiday destination is the USA, and she hopes to get there in the not too distant future.
In her spare time, Lisa enjoys spending time with her two children and catching up with friends.
Whilst most people 'rode-off' the Cronulla Sharks after their dismal performance last year, Lisa has stuck by her team in 2011, and backing the Sharkies each week has her coming ahead of the Travel Daily team in the office footy tipping competition.
Photo: Lisa cruising in Koh Samui, Thailand