Fri 24 Apr 15

ONLINE accommodation giant Booking.com is extending its tentacles further with the launch of a new unit which will provide no-cost websites to hotels.
---
Fri 24 Apr 15

OFFICIALS from Cebu Pacific Air will hold talks with the govt in Canberra next week, seeking to increase air seat entitlements into Australia, the airline said today.
---
Thu 23 Apr 15

FLIGHT Centre's cruise-focused Cruiseabout retail brand has launched a new "Cruiseabout Essentials" product which "provides added protection to our customers".
---
Thu 23 Apr 15

THE Globus family of brands has relaunched the Passport to Rewards (P2R) travel consultant loyalty program, nine months after the long-running scheme was mothballed (TD 25 Jul 14).
---
Wed 22 Apr 15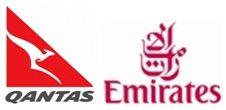 QANTAS and Emirates have complied with the conditions applied to the authorisation of their alliance, exceeding requirements to maintain capacity on the Tasman by 105,024 seats.
---
Wed 22 Apr 15

FLIGHT Centre gm of product, advertising and consumer experience Keith Stanley this morning gave a rare insight into the company's strategy, which is completely focused on evolving into a "world class retailer".
---
Tue 21 Apr 15

SPECIALIST B2B car rental group Affordable Car Hire has big plans for the Australian market, having appointed a local team in response to growing demand from Aussie agents.
---
Tue 21 Apr 15

ALBATROSS Tours has debuted a new loyalty club to reward its frequent travellers with special savings, gifts & front-to-line access to exclusive tours and functions.
---
Tue 21 Apr 15

TASMANIAN group RACT Travel will co-brand its seven offices across the state as helloworld, after confirming it will become a Helloworld Associate member.
---
Tue 21 Apr 15

AIRASIA X has agreed to "expeditiously process valid claims for reasonable out-ofpocket expenses" for passengers affected by the abrupt cancellation of the carrier's Melbourne-Bali flights just prior to Christmas.
---